Amazon is offering Duracell AAA Batteries(20-Count) for only $8.97. By the way, after using Subscribe & Save and the $.75 coupon, you will get these for only $6.87 + free shipping.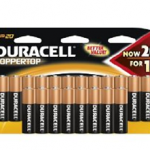 Size: AAA
Unit Count: 20
Duracell is the World's No. 1 Brand – Based on Nielsen Worldwide sales data 2007-2008
Made in the USA
Mercury Free
Chase Continental OnePass Plus – Up to 40,000 Bonus Miles!
The Continental OnePass® Plus airline rewards MasterCard by Chase offers up to 40,000 bonus miles and perks such as fee waivers and free upgrades on flights. You'll get 25,000 bonus miles after your first purchase and another 5,000 bonus miles for adding an authorized user, that's enough for a free round-trip ticket. There is no annual fee for the first year, a savings of $95.