Allegra has released $4 off Allegra Products Coupon.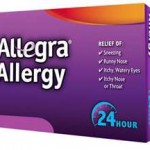 Coupon is good on Allegra (30 or 45 tablets), Allegra-D 12 Hour (20 tablets) or Allegra-D 24 Hour (10 tablets).
Offer only valid for individuals ages 21 to 54 years old.
You can also save $2 on Children's Allegra products.
You will be able to print each coupon 2 times every month.
Business Gold Rewards Card from American Express 50,000 Bonus Points
The New Business Gold Rewards Card® from American Express OPEN offers 50,000 Membership Rewards bonus points after you spend $10,000 in the first 5 months. That's about $2K per month in spending. The 50,000 points may be redeemed for 50,000 frequent flier miles, enough for 2 flight tickets or $500 in gift cards. There is no annual fee for the first year, a savings of $175.