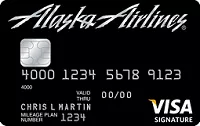 Sign up for a  Alaska Airlines Visa Signature Card from Bank of America, and you can earn 25,000 bonus miles upon approval. With this card, you earn 3 miles for every $1 spent on qualifying purchases of Alaska Airlines tickets and Vacation Packages, Cargo and Inflight purchases and 1 mile for every $1 spent on all other purchases. There is no cap on points so you can earn as much as you want! Take advantage of free baggage checking with Alaska Airlines and much more.  If you utilize Alaska Airlines or its partners often, then I recommend this card for the most optimal rewards redemption on your flights. Go far and wide with miles redeemable on over a dozen airlines.
Bonus Promotion: Earn 25K upon account approval
Annual Fee: $75
Other Benefits: Free Baggage Checking up to 6 people registered on your reservation.
Receive 25,000 bonus miles for your Alaska Airlines Visa Signature Card after account approval. When you sign up for this card, you receive a decent signup bonus and also access to their many perks and benefits of being a Alaska Airlines Bank of America card holder, such as; earning 3 miles per $1 spent on Alaska Airlines purchases. if you fly often, especially with Alaska Airlines then I definitely recommend this card to get the most optimal bang for your bucks. The annual fee is $75 (which is decent for a airlines rewards card) but the bonus offer is good for a roundtrip on Alaska Airlines in the U.S. or Canada, you receive many perks, and you can stack a lot of points if you fly frequently. Don't forget to check out our full list of Credit Card Bonuses if you're not interested in a Airlines rewards credit card at the moment.