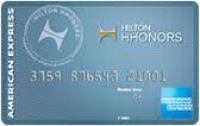 Sign up for a Hilton HHonors Card from American Express and you can earn up to 60,000 Hilton HHonor Bonus Points when you make $750 in purchases within the first three months of account activation. Earn up to 7x more HHonor Point for each eligible purchase at a selected resort or hotel. Get 5x HHonor Bonus Points at every US Restaurant. Gas Station or Super-Market, and earn 3x more HHonor Bonus Points on any other eligible purchases. Not only that, but you'll receive Hilton HHonor Silver Status, and the many perks of being a silver member!
Bonus Promotion: Earn 60,000 Bonus Points after you use your new Card to make $750 in purchases within the first 3 months!
Annual Fee: NONE
Other Benefits: Spend $20,000 in eligible purchases on your Card in a calendar year and you can earn HHonors Gold status through the end of the next calendar year
Sign up to a Hilton HHonors Rewards Card today and start earning up to a bonus of 60,000 Bonus Points, all you have to do is make $750 in purchases within a given 3 month time frame! This is an easy rewards card offer, and not only that, but you'll be granted plenty of perks being a silver status card holder! Check out our full list of Credit Card Bonuses for more great bonuses and offers!