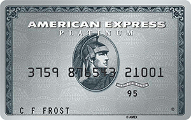 Register for a Platinum Card from American Express, and you can earn 40,000 Bonus Points after spending $3,000 in purchases within the first 3 months of account opening. Enjoy the many perks of having a American Express Platinum Card such as; free baggage checkout or free in-flight meals complimentary of American Express. Not only that, buy you can receive up to $200 a year in statement credits when incidental fees are charged by the airline to your Platinum Card account. Lounge in luxury with American Express's Airline Lounge Access Program.
Bonus Promotion: Earn 40,000 after you use your new Card to make $3,000 in purchases within the first 3 months!
Annual Fee: $450
Other Benefits: There is absolutely no interest charged on the platinum feature American Express Card
With an American Express Platinum Card, you can earn up to a 40,000 bonus reward points, when you make $3000 in purchases within 3 month of account opening! Enjoy American Express's membership program, and earn 1 point for every dollar you spend at eligible retailers; you can use those reward points at any eligible restaurant, or access to entertainment near you! On top of that, you can get so much more from your travel experience with American Express's Platinum Card. Don't forget to check out our full list of Credit Card Promotions  for all of your credit card necessities !