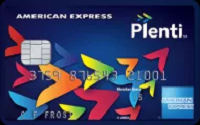 Earn 5,000 PlentiSM Points when you register for a Plenti Credit Card from Amex and you spend $250 in purchases within the first 3 months of account opening. Also earn up to 3 points at US supermarkets (on up to $6,000 per year in purchases), 2 at US restaurants and 1 on other purchases for each eligible dollar spent. With no annual fee and you can pay over time or pay all at once, whether you're managing your monthly expenses or making a large purchase, you can have the flexibility you need! Read more to see if this card for you!
Bonus Promotion: Earn 5,000 Bonus Plenti Points when you spend $250 within 3 months of account opening
Annual Fee: $0
Other Benefits: Easy and great way to earn redeemable reward points! Earn points at one place, and spend them at the other!
With an American Express Plenti Card, you can earn up to a 5,000 bonus reward points, when you make $250 in purchases within 3 month of account opening! Enjoy American Express's membership program, use your Card at one place and spend your points at the other, and with no annual fee, this card is not only efficient, but it is affordable too! On top of that, you can get so much more from saving big bucks with a Plenti Card! Don't forget to check out our full list of Credit Card Promotions for all of your credit card necessities !