American Express Serve is a full service re-loadable prepaid account with no hidden fees, no credit check, and no minimum balance. Now offering $50 bonus with two direct deposits! This prepaid card gives you the banking experience without all those hidden fees that most banks have.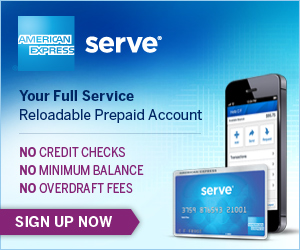 What you get when signing up for American Express Serve:
Fast, easy access to your funds with direct deposit.
Access your account 24/7 with the American Express Serve App.
Add cash for free at the register of over 15,000 CVS/pharmacy stores and participating 7-Eleven locations.
You can add checks into your American Express Serve account with the use of the mobile app, take a picture of the front and back of the check and add to your account.
Easily access cash when you need it at ATMs worldwide — and get surcharge‑free ATM withdrawals at over 23,000 Money Pass Network ATMs nationwide.
Easily pay bills online.
Send and receive money quickly with your American Express Serve App or Online.
Create sub-accounts for your family.
Get $50 with Direct Deposit
For a limited time only, American Express Serve is also giving a bonus of a $50 credit to your account with two direct deposits of $250 or more. So not only do you get amazing features and no hidden fees, they are also giving away this amazing bonus with just two direct deposits.
Updated fee schedule for Amex Serve:
$2.95 to purchase the card online or in select retailers
$1 monthly fee, except in NY, TX and VT; waived if you direct deposit or load $500 in the previous month
$2 out-of-network ATM withdrawal fee
2.7% foreign transaction fee
I know we all have our worries about prepaid cards, their costly, many hidden fees, and they never truly act as a real debit card. With American Express Serve all those worries are wiped away with the low first time cost, no hidden fees and they give you the luxury of having a prepaid bank card act and feel as a regular bank card. Sign up now for all the amazing perks and the extra bonus reward of $50 that is lasting until March 2014 with American Express Serve. Check out our full list of Bank Promotions for all bank deals.