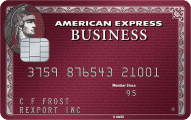 Sign up for a The Plum Card from American Express, and you can get up to 3.5% back on your first $30,000 in purchases within the first 3 months of Card Membership. All you have to do is pay early and get 1.5% back with no cap. In addition to that, get a $200 statement credit for every $10,000 you spend on the Card, up to $600 back, which is an extra 2%. This card is a unique charge card with no pre-set spending limit that gives you flexibility in your expenses each month by allowing you to either pay in full and be rewarded or to defer your payments interest-free. If you're a striving sole proprietary, this card can help with your accounts payable. Sign up today to receive great perks geared towards your business!
Bonus Promotion: Earn 1.5% early pay discount with no caps.
Annual Fee: $0 for 1st year, then $250
Other Benefits: Receive $200 Airline Fee Credit
Sign up for a The Plum Card from American Express today and start earning up to a bonus of 3.5% cash back, for making 30,000 in purchases within 3 months. This is a Premium card, and along with the many perks, you also receive an exceptional cash back value, and on top of that, you get a first year period no annual fee, note that this is a business card so this is an astounding annual fee. Also, If you're a striving, hard working business sole proprietary, I definitely recommend you check this card out, if you're not interested, then don't forget to check out our full list of Credit Card Bonuses for all of your credit card necessities!