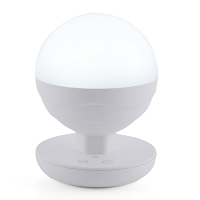 ATC via Amazon offers the ANNT LED Moving Night Light for $19.99. Coupon code "GTGAPZHE" cuts that to $14.99. Plus, Prime members bag free shipping. (Non-members can spend $35 or more to qualify for free shipping; otherwise, shipping costs $6.76.)
Unique design and top quality, service life>5000h, it can last lighting 5 hours (The strongest light) – 50 hours (The weakest light) in the state of full power.
Using imported high-strength PC&ABS material, resistance to impact and breakage.
LED light source, energy conversation and environmental protection, hurtless to eyes, high transmittance, large light-emitting area, brighter than 15w incandescent lamp.
Stepless fingerprint touch, adjust the brightness according to your needs, Color Temperature :6500K.
Super energy-saving, high brightness, large luminous surface, brighter than a 15W incandescent bulb.