Graveyard Mall is offering As Seen On TV Guaranteed Mystery Box for only $11.99. Shipping is $6.99 which make th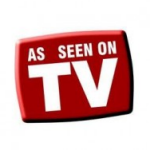 is $18.98 shipped – May take up to 10 business days to ship. If you don't happy with your box, you can return it for a full refund (include shipping).
Plus you can have 4% Cash Back from Cashbaq.
They can't give you the products names, they can't give you products images, but here are some hints about what As Seen on TV box will contain:
Item #1 – Hanging storage that vacuum seals: Airtight Hanging Vacuum Bag saves up to 75% Volume and uses the New Easy Zipper-Vac Seal
Item #2 – HiTech RFID Blocking Wallet – Silver Color: The advanced solid inner metal construction blocks ALL RFID radio frequency signals. Features: RFID blocking theft prevention Satin smoth ultra strong build Stylish design for men and women Bi-Fold Design – Fits in Your Pocket or Purse Dimensions: .625 x 4.5 x 3.875 inches Includes/Wallet consists of: 3 x Credit card slots I x Internal side pocket 1 x Large inner pocket 1 x Easy view slot
Item #3 – Extra Closet Organizer:  Double your closet space in only minutes, keep clothes neat & tidy and ready to wear. Fast and easy assembly. Adjusts to a custom fit. Holds 50 lbs
Item #4 – Below The Bed Shoe Organizer:  Save space and keep your shoes tidy. Quick and easy to assemble. Fabric handles for easy in and out. Keeps your shoes dust, bug and damage free.  Compartments for up to 12 pairs of shoes
Item #5 – Ion Charged Magna Wrist Band: Ion-Charged Band utilizes the Eastern philosophies of optimizing the body's energy flow by embedding wavebands at specific frequencies that are believed to connect with the natural energy field of the body to give you more energy, stamina and an overall feeling of well being.