Amazon is giving away Awesome Triple-Play Video Poker Android App for FREE today only.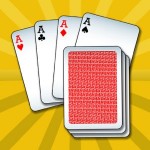 With Triple Play Video Poker, you can test your play strategies and polish your technique without dropping a bundle at the casino or risking security online. Choose from eight game variations and play three hands at once. You can adjust win frequencies and track hands with statistical charts.
Business Gold Rewards Card from American Express 50,000 Bonus Points
The New Business Gold Rewards Card® from American Express OPEN offers 50,000 Membership Rewards bonus points after you spend $10,000 in the first 5 months. That's about $2K per month in spending. The 50,000 points may be redeemed for 50,000 frequent flier miles, enough for 2 flight tickets or $500 in gift cards. There is no annual fee for the first year, a savings of $175.