Amazon is offering Band Hero featuring Taylor Swift for Xbox 360 for $5.77 and FREE shipping for Prime Members or any $25 order. PS3 version is $8.30 and Wii version is $15.20.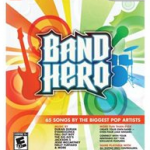 Supports all Guitar Hero instrument controllers within the same gaming platform, as well as other music/rhythm game controllers.
Play with any combination of instruments you want, even with four lead singers.
Team up with a partner on a Nintendo DS Lite in Roadie Mode for an all new level of competition.
Expand your music collection by import your favorite Guitar Hero World Tour and Guitar Hero downloadable content straight into Band Hero.
Enjoy 2-4 player local multiplayer support in co-op and competive modes and 2-8 player support online.