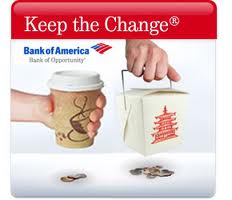 Did you know you can make $250 from Bank of America's Keep the Change program? This is a Bank of America program that will match up to $250 of the change from your debit transactions for the first 3 months. Lets say you buy a sandwich for $2.25; instead, it will show up as a $3 charge, and the 75 cents goes into your savings account. KTC will also put in another 75 cents to match your savings. Basically, you want to have charges of $1.01, $2.01, $3.01, etc to maximize this deal.
The Keep the Change Program from Bank of America is an easy and convenient way to get a little extra money in your savings account. Although you are probably not going to get rich this way, the program has the advantage of being free and simple to use. It also requires the minimum amount of effort on your part, as once you are signed up, the money is deposited in your savings account automatically; you don't need to do anything to make it happen.
The program rounds up any purchases that you make with your Bank of America debit card, and then deposits that difference in your savings account. Supposing you buy lunch and it costs $7.25; you are actually charged $8 and your checking account is debited $7.25 as normal, and the remaining 75 cents is deposited in your savings account. Obviously, the more you use your card, the more money you can accumulate in your savings account, and the bank will match your rounded up amount for the first three months after you enrol in the program. In other words, if you pay $76.42 for groceries with your card, you get 58 cents of your own deposited in savings, and an extra 58 cents from the bank.
How to Make $250:
Sign up a checking account
For simplicity sake, deposit $500 in your account.
In order to do keep the change, you must sign up for a savings account (this can be done when opening a checking). **You must set up $25 auto transfer each month from Checking to Savings for Savings account to be free.
Once you have your checking, savings, and debit card, visit this Keep the Change link to enroll.
You will have a 3-month window to get the $250 match. Here are a the quickest ways to maximize this offer. 1) Go late at night and pump gas at $1.01 each time. Do this every time you need to fill up your gas tank, so give and take about 253x at $1.01 each time. 2) You could also pay your phone bill, water bill, or electricity bill at $1.01 each time online. Check with your utility company to see the policy on this.
There are some restrictions that come with the Keep the Change program. Bank of America will only match up to a maximum of $250, and the matching amount isn't deposited immediately; rather, you have to wait a year and keep your account open during that time until you get that extra money. Still, you can make $250 from Bank of America if you use the card often enough. If you have a small business account, it is not eligible for the program; only personal accounts are.