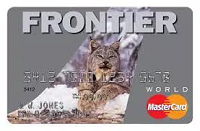 Earn 40,000 Bonus Miles when you sign up for a Frontier Airlines World MasterCard and after spending $500 in purchases during the first 90 days of activation with this card. You will earn 2 miles per $1 on purchases at FlyFrontier.com and 1 mile per $1 on all other purchases. You can redeem miles for two domestic roundtrip award tickets. The annual fee is $69 but the bonus offer is quite generous, so if you fly with Frontier often, then I definitely recommend this card. On top of the miles you earn, you receive no awards redemption fee, miles with no expiration date, and a complimentary FICO score and much more. With Frontier Airlines World Mastercard from Barclaycard, you'll receive an exceptional airlines rewards card that has you covered anywhere you go!
Bonus Promotion: Earn 40K when you spend $500 during the first 90 days of account opening.
Annual Fee: $0 for the first year, after that, $69 annually.
Other Benefits: Frontier is regarded as 2016 best Airlines travel card due to it's low qualification requirement, relatively cheap $69 annual fee, and easy reward redemption.
Earn 40,000 points after spending $500 during the first 90 days of account initiation with your Frontier Airlines World Mastercard. Although the annual fee is $69, the benefits and rewards program can make it well worth the cost if you're ideally a frequent Frontier Airlines Consumer. On top of that, this card offers an exceptional 40,000 bonus points from just the enrollment bonus, which is already a round trip of your choice. I don't recommend this card to individuals that don't fly frequently, because you won't receive the most optimal points to take advantage of this cards promotion. Don't forget to check out our full list of Credit Card Bonuses if you're not interested in a Airlines rewards credit card at the moment.