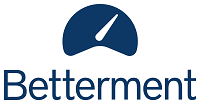 Open a Betterment online brokerage to confirm your $599 cash bonus when you roll over a 401(k) or IRA of $200,000 or more into a Betterment IRA. Betterment brokerage accounts have no minimum balances, no transaction fees, no holding periods, and no hidden costs. Betterment will help you invest in a variety of stock and bond ETFs designed for optimal expected returns.  With Betterment Online Brokerage, you are given a goal-based framework designated to help you plan for every stage of your life!
Account Type: Individual Retirement Account (Rollover IRA)
Expiration Date: None
Online Trades: $7.99 per trade
Closing Account Fee: Must have account open and in good standing for a year
Remember to deposit $200,000 within 4 months for the maximum $599 bonus, other amounts can be earned with lesser deposit. I recommend keeping your Betterment account open for a year, to avoid any claw-backs. Betterment services include; easier rollovers, low-cost investing, diversified portfolio of stocks, automated transactions and much more. Betterment Online Brokerage will have you saving time and effort on your financial decisions. See the full review of Betterment Rollover IRA $599 Bonus Promotion to learn more!