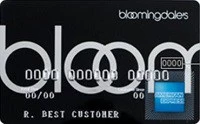 You can earn up to 6x Points with your Bloomingdale's American Express Card. Take advantage of 6 times the points for every dollar spent on all Bloomingdale's shoes, cosmetics & fragrances as well as 4 points for restaurant purchases outside of Bloomingdale's. In addition, you can earn points faster by receiving 3 points for every dollar you spend at Bloomingdale's. For purchases made outside of Bloomigdale's, you'll still receive 2 points for every dollar. There is no annual fee, and with easy to access rewards points, you'll be saving extra money! It only takes 5,000 points to redeem rewards, so join today and start earning rewards for your purchase power!
Bonus Promotion: 6x Rewards Points
Annual Fee: NONE
Other Benefits: 5,000 points = $25 Reward Card
Earn up to 6x Rewards Points with your Bloomingdale's American Express Card. Points can be earned every day at Bloomindales and everywhere American Express Cards are welcomed! If you enjoy shopping at Bloomindales, and you enjoy the satisfaction of saving big bucks on your everyday shopping finances, then I definitely recommend this card for you! If you are not interested in this card, then don't forget to also check out our complete list of Credit Card Deals if you have any more credit card needs!