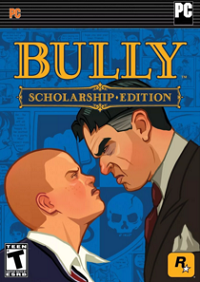 Amazon.com has Bully: Scholarship Edition (PC Digital Download) on sale for $3.74. (requires a Steam account to activate.)
Story – Scholarship Edition brings together all of the clichés surrounding school, the cliques, the teachers, the pranks and creates an environment which is hilarious to play and interesting to explore.
Variety – With 82 missions, 45 lessons, loads of mini games and collectibles, Bully provides over 30 hours of entertainment.
Pranks – Spread the mischief. Use your slingshot to annoy the school mascot, give the preppies wedgies, leave a stink bomb in the cheerleader's locker, trip the prefects on well placed marbles, drop firecrackers in the toilets and own the school.
Characters – Over 100 voiced characters to socially interact with among several social groups; jocks, nerds, preppies, greasers, teachers, townies, carnies and of course girls.
Choice – You're in charge. Decide whether you have a positive or negative effect when interacting or accepting missions; you can say hello to fellow classmates or deliver mean wedgies. Even decide which girls you want to kiss or what classes to skip.
Music – Original score creates a dynamic atmosphere that compliments the schoolyard experience seamlessly.