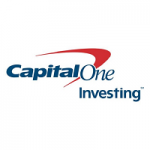 Sign up to a Capital One Investing Account today to claim up to $600 in brokerage bonus when you deposit $200K or more into your new account and use Promo Code "WINTER25*Q4E," valid through February 29, 2016. Your net qualifying assets must be posted within 90 days of entering the code. Assets deposited must be at least $15,000 to be eligible for a $100 bonus; There is no trade requirements for this $600 bonus offer. With Capital One Investing, you can invest online with our simple, straightforward tools, personal guidance, and much more.
Account Type: Individual Retirement Account (IRA), Individual, Joint or Custodial account
Expiration Date: 2/29/2016
Online Trades: $6.95 per trade
Closing Account Fee: Make sure to keep the deposit amount in your account for at least nine months or your award may be reclaimed by Capital One Investing.
Remember to deposit $200,000 within 45 days for the maximum $600 bonus, other amounts can be earned with lesser deposit (minimum of $15,000 is eligible). Capital One Investing will help you prosper as an investor with all their tools, resources, and personalized support. Investments are complicated, let Capital One invest for you! See the full review of Capital One Investing $600 Bonus Promotion to learn more!