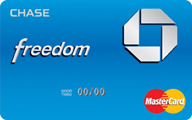 The Chase Freedom® MasterCard is offering a $100 cash back reward to new members that spend $500 within the first three months of account opening. Some other great features include a 0% introductory APR for 15 months on balance transfers and purchases as well as 5% cash back in different bonus categories every yearly quarter on things like gas, groceries, and travel. You can even earn up to 10% cash back when you shop online with specific participating merchants. Furthermore, you can earn an unlimited 1% cash back on every eligible purchase you charge to your credit card. If you like to get cash back when you shop, this card is perfect for you because it aims to make earning and using reward points as simple as possible.
Bonus Cash Back
There are bonus categories that last for three months that allow customers to earn 5% cash back on spending of up to $1500. The most up to date bonus categories will last between Jan 1 and Mar 31, 2013 and they include gas stations, drugstores and Starbucks® stores. For all other purchases, cardholders can enjoy 1% cash back. Plus, there is no maximum amount of cash back points one can earn with the credit card.
The best and most lucrative offer would have to be shopping online with one's Chase Freedom MasterCard. When one shops online with this card, one can get up to 10% cash back, however the purchase has to be done from select stores and merchants only. Buying gas, shopping for home supplies and groceries or dining out are quite common and most people engage in them. That is why, Chase is allowing its customers to benefit from such purchases even though these products may be necessities. All Chase Freedom® MasterCard holders are entitled to earning 5% cash back from shopping within the three categories: gas, grocery and food.
Chase Freedom® MasterCard Features:
Earn $100 Bonus Cash Back after you make $500 in purchases in your first 3 months from account opening
0% Intro APR for 15 months on purchases and balance transfers
5% Cash Back on up to $1,500 spent between Jan 1 and Mar 31, 2013 at gas stations, drugstores and Starbucks® stores
You'll enjoy new 5% categories every 3 months like gas stations, restaurants and Amazon.com. It's free and easy to activate your bonus each quarter!
Unlimited 1% Cash Back on all other purchases
No annual fee and rewards never expire
Signing Up
If these features are tempting you to apply for a Chase Freedom MasterCard then you should do so online. The procedure is very simple, one simply has to fill up a form with various areas and submit it online. Considering the fact that the card offers so many different features and that the process of redemption of bonus is very easy, a lot of people are interested in applying for the same, and that is why the Freedom MasterCard is becoming a popular choice.
During the introduction period, one would be enjoying 0% introductory APR on balance transfers and purchases. Once the introduction period is over, the variable APR would be anything from 12.99%-22.99%. The rates of the Chase Freedom MasterCard are quite reasonable. As far as the fee for balance transfer is concerned, it would be 3% of the amount transferred.
Why Choose the Chase Freedom® MasterCard?
If you're looking for an easily manageable credit card that has no annual fee but many cash back bonuses, the Chase Freedom® MasterCard is definitely the right card for you. Cardholders that are dependent on credit cards rather than cash to pay for their expenses can earn a high amount of cash back  from purchases on anything from groceries to travel to dining out.