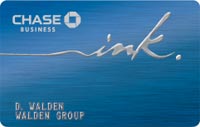 The Chase InkSM Classic Business Card is offering 20,000 bonus points after you spend $3,000 in the first 3 months of owning the card. The 20,000 points can be redeemed for $200 towards travel, experiences, gift cards, and more. These points do not expire so you're free to use them whenever you'd like. You can get 5X points per dollar spent on office store purchases and cable services bundled. There is also an introductory 0% APR on balance transfers and purchases for 6 months!
One of the best credit cards for the small-to-medium business owner is the Chase Ink Classic Business Card. The card offers a number of great features that can help a business stay in the green. It can also help the business deal with the red a little more easily.
Chase InkSM Classic Business Card Features:
Reward yourself with 20,000 Bonus Points worth $200 in Ultimate Rewards after you spend $3,000 in the first 3 months from account opening
5X points per dollar on the first $25,000 spent annually at office supply stores, and on cellular phone, landline, internet, and cable TV services
2X points per dollar on the first $25,000 spent annually at gas stations and for hotel accommodations when purchased directly with the hotel
1 point per dollar on all other card purchases with no limit on the amount you can earn
0% introductory APR for 6 months on purchases and balance transfers
No Annual Fee
Low Starting Interest Rate
Businesses that receive one of these cards receive a rate of 0% percent financing for the first six months. Businesses can pay off the balance and prevent incurring additional costs. The introductory offer does not last forever. When the introductory period does end, the business can experience a relatively low interest rate for a credit card. The basic rate for the Classic Chase Ink Business card is 13.74%. As with any credit cards, the rate depends on the credit rating of the business. A company that shows an ability to make its payments on time can receive lower rates.
Five Times the Reward Points
Chase Ink customers can experience a variety of different reward structures. One of the most important for a business of any size is the five times reward points feature offered by the card. The five times multiplier only applies to purchases made at office supply stores. Card holders receive this benefit for the first $25,000 they spend on office supplies.
Earn Rewards at Gas Stations
Chase can do nothing about the price of gas, but card holders can experience a slightly easier burden. Card holders receive double points for the first $25,000 they spend at gas stations in a years. This may seem like a lot of money, but it is not hard to achieve. Any operation with a small fleet of vehicles should achieve it easily. It is even easier to achieve for firms that are in the delivery business.
Reward Points on All Other Purchases
Members receive normal bonus points on all purchases. There is no annual purchase limit for this particular feature. The points are accumulated for every employee who uses the card. The points can be used for airplane travel and other items.
What Are the Other Benefits of the Card?
One of the most valuable benefits of this card is the lack of an annual fee. Business owners of any size know that they need to cut costs wherever they can. They do not want to pay ridiculous fees on their credit cards. The credit card company may not view the lack of an annual fee as a good thing, but Chase knows that it is more important for them to keep their customers.
If you are a small business owner, consider owning the Chase InkSM Classic Business Card for its simple and effective rewards program that allows points to be redeemed for a number of great things. This is a great card that provides owners with easy points for everyday purchases, so sign up today to start saving.