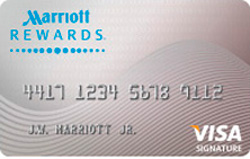 The Chase Marriott Rewards® Credit Card is currently offering 30,000 bonus points (enough for 4 free nights stay) after $1,000 in purchases within the first 3 months. To reward you further, you will receive an e-certificate for two additional free nights stay once your account has been approved (valid at category 1-4 hotels worldwide). So if you combine this offer with the above offer, you get 6 free nights as a signing bonus! This award-winning frequent traveler program rewards you with exclusive membership privileges when you travel. With this card, you will earn 3 points for each $1 of purchases made at participating Marriott locations and 1 point for every $1 spent on all other purchases. There is also no maximum amount of points you can earn! Additionally, the card has no annual fee the first year, saving you $45.
If the idea of another normal credit card does nothing for you, then you need to look at the Chase Marriott Rewards Credit Card. Instead of just another card, the Chase Marriott Rewards Credit Card is your key to both comfortable business travel and exciting vacation stays anywhere your dreams may lead you. Imagine waking up near your favorite beach, or the ultimate ski resort. Now imagine your stay paid for entirely by rewards points.
This is not just any rewards plan, either. The Marriott Rewards plan won the 2012 Freddie Awards "Program of the Year" title for best American hotel rewards program, marking the fifth year in a row that the program has won that award. Additionally, in 2012 the Marriott program took the "Best Customer Service," "Best Elite Level," and "Best Redemption Ability" American hotel titles at the Freddie Awards event. The award-winning program is simple, too; by participating in the Marriott Rewards program, you earn points for purchases and for stays at any of more than 3600 Marriott properties across 14 brands in 70 countries. You can then redeem those points for free nights or for upgrades of existing reservations to a room with a view or to a suite, or for purchases or activities on site at your choice of Marriott hotels.
Earning Bonus Points
When you open your Chase Marriott Rewards Credit Card, your Marriott Rewards account will be credited with certificates good for two free nights at select hotels. Additionally, when you make $1000 in purchases during the first three months after opening your Chase Marriott Rewards Credit Card account, you will receive 30,000 bonus points added to your rewards account. Then, as you travel to and use your card at the various Marriott locations, you will earn 3 points for every dollar you spend in addition to the points earned for your stay, and for every dollar you spend using your Chase card anywhere else you will earn 1 point to your Marriott Rewards account.
Chase Marriott Rewards® Card Features:
Earn 30,000 Bonus Points after you spend $1,000 in your first 3 months after account opening, redeemable for up to 4 free nights
Plus receive 2 free night say e-certificates upon account approval
$0 Introductory Annual Fee for the first year, then $45
Earn 3 points for every $1 spent at Marriott® locations
Earn 1 point for every $1 spent on other purchases
Cardmembers achieve Silver Elite status with 10 nights credit toward Elite status
Redeem Marriott Rewards® points at Marriott properties including Renaissance Hotels, Courtyard, Residence Inn and Fairfield Inn & Suites
Free Marriott Elite Status
An additional temptation for opening and using a Chase Marriott Rewards Credit Card account, is that you will also qualify for elite status faster. There are three levels of elite status associated with a Marriott Rewards account. The first level is silver, which requires 10 to 49 qualifying nights of stay and which grants benefits that include complimentary Internet service, discounts on weekend rates and at the gift shop, and dedicated service lines. The higher levels are gold and platinum, each of which requires additional nights of stay during a calendar year but also grants even more exclusive benefits including complimentary room upgrades and arrival gifts. On each anniversary of your Chase Marriott Rewards Credit Card account you will be credited with 10 nights, which automatically earns silver elite status. For every $3000 you spend on your card you will also be credited with another qualifying night toward earning even higher elite levels.
As long as you use the Marriott Rewards® Credit Card frequently in order to earn more points, you will be able to accumulate many points which you can use to stay in Marriott or Ritz Carlton hotels and resorts for free or at very low prices. You especially want to take advantage of the card's offer of 30,000 bonus points (enough for 4 free nights stay) after making $1,000 in purchases within the first 3 months. The card allows to quickly gain an Elite membership with free nights credits every year and enjoy exclusive Elite benefits. It does not have a fee for the first year and then has an annual fee of $45, but the generous sign-up bonuses and rewards points make the card a great investment.