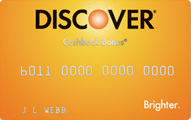 Trying to find a balance transfer credit card? The Discover More Card – 18 Month 0% APR Balance Transfer offer is an excellent promotion for anybody who wants to consolidate your high-interest credit card debts. The credit card provides you 0% introductory APR on balance transfers for 18 months. On top of the balance transfer promotion, you'll also get a 0% intro APR on purchases for the first 6 months of account opening. Furthermore, this card earns 5% Cashback Bonus in revolving categories such as gas, travel, restaurants, groceries stores, etc, throughout the year.
The Discover More Card – 18 Month Promotional Balance Transfer is simply one of the best credit cards on the market. There is absolutely no annual fee with cash back rewards and other exclusive cardholder benefits. To do a balance transfer, simply give them a call once approved for the card and inquire to do a balance transfer from your existing cards. Customer Service Representative will take you step by step to finish this process. If you take advantage of the introductory 0% balance transfer of transferring your high-interest credit card debt to this new card account, you will pay nil interest on your transferred balance for 18 months. After your promotion offer, the variable APR will be between 10.99% and 20.99%, based on your credit score. It's imperative that you make plans to pay off the account balance so you won't have to pay any more interest. As with most cards, you will find a 3% balance transfer fee for triggering this promotion.
The 0% introductory APR on all your purchases for 6 months can save you money while you're saving to get rid of your credit card debt. There's no interest with your new purchases, however you would still should pay the minimum each month. The Discover More gives you 5% Cashback Bonus in rotating categories and up to 1% cash back in everything else. From July through September, cardmembers can sign up to earn 5% Cashback Bonus on up to $300 in purchases at gasoline stations, hotels, amusement parks and movies. You will need to enroll for each 5% program every 3 months by logging into your account.
Additional benefits with the Discover More 18 Month Balance Transfer promotion include travel insurance, car rental insurance, and $0 fraud liability guarantee. To learn more, visit their application page to get all the details. Rebates Money highly recommend the Discover More for doing a balance transfer.