Amazon is giving the Disney World: Beat the Crowds 2012 for FREE right now.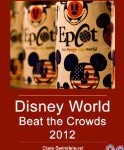 Many people think that the only park you'll find at Walt Disney World is the Magic Kingdom and that it's possible to see it all in a day. But the Magic Kingdom is just the tip of the iceberg. The Walt Disney World Resort is twice the size of the island of Manhattan; it has four theme parks, two water parks, a shopping village, 19 hotels, 62 restaurants and just over 100 rides, attractions and shows. Understand now why you can't see it all in a day?
Chase Continental OnePass Plus – Up to 40,000 Bonus Miles!
The Continental OnePass® Plus airline rewards MasterCard by Chase offers up to 40,000 bonus miles and perks such as fee waivers and free upgrades on flights. You'll get 25,000 bonus miles after your first purchase and another 5,000 bonus miles for adding an authorized user, that's enough for a free round-trip ticket. There is no annual fee for the first year, a savings of $95.