If signing up for bonus money is your thing, then look no further than the Continental Airlines OnePass® Plus Card. Currently, they are offering a $50 statement credit along with 30,000 free miles with no annual fee for the first year. Try it out free for a year to see how you like it. In addition, there are many travel perks such as free checked bag for flying Continental, primary rental car and travel insurance, concierge service, and many more.
$50 Statement Credit and 30,000 Bonus Miles Details:
-Earn 25,000 bonus miles. That's enough for a round-trip reward ticket!
-Earn an additional 5,000 bonus miles by adding an authorized user to your account.
-Plus: Get $50 back after your first purchase.
-Pay No Annual Fee the first year. That's a savings of $85.
-Earn 2 miles for every $1 spent when you purchase tickets from Continental Airlines on your Card.
-Earn 1 mile for every $1 in purchases charged on your Card
Travel Perks
The Continental Airlines OnePass® Plus Card has some of the best travel perks you can imagine with free checked bag for flying Continental. The free checked bag's offer apply to you and 9 travel companions which is amazing saving of $50 per person for a round-trip. You then get free primary rental car insurance which is much better than most credit cards' secondary rental insurance. With primary rental car insurance, you don't have to worry about your premium going up with your personal car insurance. Other perks include primary collision damage waiver, additional travel insurance such as trip cancellation with up to $1500 for an illness, delayed baggage coverage up to $300, and two free passes to their First-Class airport lounge after first year.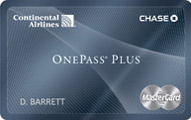 Our Verdict
Those fly on Continental Airlines, then the Continental Airlines OnePass® Plus Card is an a great card to save money for traveling with free first checked-bag, free-trip air ticket for new members, and no fee for first year. The card provides top notch travel perks that is second to none. You can redeem all those extra miles earned for free flights, hotel stays, and car rentals. Apply online now to get a quick response within minutes.