Amazon is offering the ExciteBots: Trick Racing Bundle for Wii for $19.50 and FREE shipping for Prime Members or any $25 order.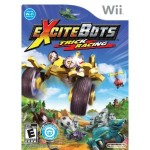 Online multiplayer support for up to six player via a Nintendo Wi-Fi Connection in both Excite Race and Poker Race modes, and 2-player multiplayer versus mode in local play.
Special ExciteBots: Trick Racing bundle features included Nintendo Wii Wheel.
Insect and animal inspired off-road bot racers able to walk, fly and drive that via pick-up-and-play controls catch big-air and provide thrills at blinding speed like no other game in the Excitebike series.
Having your vehicles drive, walk or fly around the track quickly is one thing, but it's more important to go around in style. Players earn stars for huge jumps, cool tricks and daring feats at high speed.
A wide variety on mini-games, including soccer, poker, bowling, darts and clowns among others, that occur during races.