Get FREE $1 MP3 Credit Follow Amazon on Twitter is still available. Go to the link and click on the "Tweet and get $1″ you will: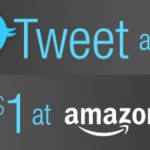 Connect your Amazon.com and Twitter accounts. (If you are not already signed in, you will be prompted to do so).
A window will pop up when you connect your Amazon.com and Twitter accounts for the first time. The window will provide some information about the permissions you're giving Amazon.com. Though these permissions allow us to post tweets for you, we will only post the message below. If at any time you would like to disconnect your Amazon.com and Twitter accounts, you can do so from the Applications tab of your settings page on Twitter.
Automatically follow @amazonmp3. The message "I just got a $1 credit for music from @amazonmp3. Click http://amzn.to/AFlt0P to get yours. #hollerforadollar" will be automatically tweeted from your Twitter account. A $1 credit towards purchases at Amazon MP3 will be automatically added to your Amazon account.
Chase Continental OnePass Plus – Up to 40,000 Bonus Miles!
The Continental OnePass® Plus airline rewards MasterCard by Chase offers up to 40,000 bonus miles and perks such as fee waivers and free upgrades on flights. You'll get 25,000 bonus miles after your first purchase and another 5,000 bonus miles for adding an authorized user, that's enough for a free round-trip ticket. There is no annual fee for the first year, a savings of $95.