Amazon is giving the 10 Fun Things To Do With Your Microwave [Kindle Edition] for FREE.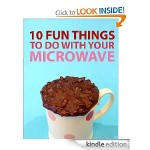 10 Fun Things to Do With Your Microwave gives you full step-by-step instructions for fun projects you can do with your microwave. Learn how to make peanut brittle and dye wool, and all about what will or won't blow up when nuked!
Chase Continental OnePass Plus – Up to 40,000 Bonus Miles!
The Continental OnePass® Plus airline rewards MasterCard by Chase offers up to 40,000 bonus miles and perks such as fee waivers and free upgrades on flights. You'll get 25,000 bonus miles after your first purchase and another 5,000 bonus miles for adding an authorized user, that's enough for a free round-trip ticket. There is no annual fee for the first year, a savings of $95.