eMusic is offering a FREE $10 Music download credit to everyone that sign up to their service.  Most songs are about$.5 so that you can get 20 songs for FREE. Go sign up here and the you account will have $10 already. Enter a credit card number or link Paypal account is require to activate. You can GO HERE if you want to cancel your subscription.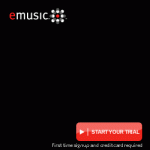 Plus there are "Free Tracks" link on the left, that's a lot of songs you can download for FREE. And these free song won't count to your FREE $10 credit.
Chase Continental OnePass Plus – Up to 40,000 Bonus Miles!
The Continental OnePass® Plus airline rewards MasterCard by Chase offers up to 40,000 bonus miles and perks such as fee waivers and free upgrades on flights. You'll get 25,000 bonus miles after your first purchase and another 5,000 bonus miles for adding an authorized user, that's enough for a free round-trip ticket. There is no annual fee for the first year, a savings of $95.