Now you can request Coupon for a FREE bag of Nutrena Horse feed SafeChoice Special Care or SafeChoice Perform.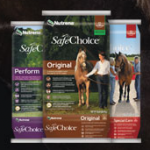 To receive your coupon for a FREE bag of SafeChoice® Special Care or SafeChoice® Perform, simply fill out the form they provided. You will receive your coupon in the mail in 7-10 days. Only one offer will be mailed per household, and the purchaser is responsible for any applicable sales tax on the free product. The coupon expires on June 30, 2012. This offer will be limited to 20,000 coupons. 
Chase Continental OnePass Plus – Up to 40,000 Bonus Miles!
The Continental OnePass® Plus airline rewards MasterCard by Chase offers up to 40,000 bonus miles and perks such as fee waivers and free upgrades on flights. You'll get 25,000 bonus miles after your first purchase and another 5,000 bonus miles for adding an authorized user, that's enough for a free round-trip ticket. There is no annual fee for the first year, a savings of $95.