Don't miss your chance Free eCookbook – The Ultimate Thanksgiving eCookbook from Mr. Food.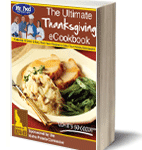 The cookbook is sponsored by the Idaho Potato Commission and features 40 must-have recipes to make your holiday spectacular, including plenty of Thanksgiving survival tips and even recipes for that leftover turkey!
Business Gold Rewards Card from American Express 50,000 Bonus Points
The New Business Gold Rewards Card® from American Express OPEN offers 50,000 Membership Rewards bonus points after you spend $10,000 in the first 5 months. That's about $2K per month in spending. The 50,000 points may be redeemed for 50,000 frequent flier miles, enough for 2 flight tickets or $500 in gift cards. There is no annual fee for the first year, a savings of $175.