Don't miss your chance to get FREE Sample of John Frieda Full Repair Full Body Shampoo and Conditioner.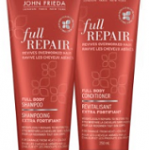 Fill out the short form provided to request your free sample.
This sample offer is valid through 12/26/11 or while supplies last.
One sample per person.
Samples will be fulfilled after 12/26/11 and should take 6-8 weeks to arrive.
Business Gold Rewards Card from American Express 50,000 Bonus Points
The New Business Gold Rewards Card® from American Express OPEN offers 50,000 Membership Rewards bonus points after you spend $10,000 in the first 5 months. That's about $2K per month in spending. The 50,000 points may be redeemed for 50,000 frequent flier miles, enough for 2 flight tickets or $500 in gift cards. There is no annual fee for the first year, a savings of $175.