Amazon is offering the How I Workout, Cook and Eat Healthy in Spite of Being Super-Busy (Easy Organization for Busy Women Series) [Kindle Edition] for FREE.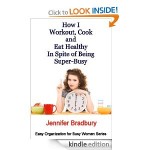 Like many women, I lead a very busy life. So when health issues required that I start working out more consistently and cooking all my own meals from scratch, I had to find a way to get it done while still juggling everything else. This short book outlines the system I came up with so I can workout regularly, cook (almost) all of my own meals, and eat the way I need to for my health. I also include some tips on other time-savings habits I've developed. If you struggle to establish healthy habits because of your busy schedule, the system in this book could help.
Chase Freedom MasterCard $100 Bonus + 5% Cash Back in Popular Categories
The Chase Freedom MasterCard gives you $100 cash back when $500 is spent within 90 days of account activation. This card makes accumulation and redemption of rewards as simple as possible. Benefits include 0% intro APR for 6 months on purchases and 12 months on balance transfers; 5% cash back every quarter in categories such as gas, groceries, travel and home improvement purchases.