Sign up on Betty Crocker to get Free Jack-O-Lantern Carving Guides.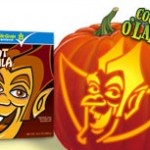 The printables include Cookie Crisp Wolf, Franken Berry, Count Chocula, Boo Berry, and several others.
You will also receive coupon savings up to $200 per year, exclusive member-only offers and free recipe box and grocery list for joining the Betty Crocker Club.
Chase Continental OnePass Plus – Up to 40,000 Bonus Miles!
The Continental OnePass® Plus airline rewards MasterCard by Chase offers up to 40,000 bonus miles and perks such as fee waivers and free upgrades on flights. You'll get 25,000 bonus miles after your first purchase and another 5,000 bonus miles for adding an authorized user, that's enough for a free round-trip ticket. There is no annual fee for the first year, a savings of $95.