Amazon is offering ManWords: Real Words for Real Men [Kindle Edition] for FREE.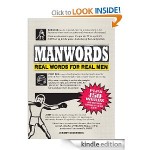 Man up and talk the talk! So your bros are hanging around the grill, shooting the shit while putting back brews from a pony keg. The air's heavy with barbecue sauce, stale belches, and testosterone. And you want to sound manly, like you read Maxim, not GQ. Like you watch football, not gymnastics. You want to use words like "crack-back," "low rider," and "mojo." You need ManWords.If you want to be a high roller, a mac daddy, or a player, you also need this book.And if "taupe," " decoupage," and "brow gel" are words you actually know, get this book now. You can probably still be saved.
Chase Ink Bold $500 Bonus
Chase Ink Bold Ultimate Rewards Business Card offers 50,000 points ($500) Sign-Up Bonus after $5,000 in purchases. The card offers flexible spending limits and requires you to pay off your balance in full each month. The annual fee of $95 is waived for the first year. I sell items on eBay and Craigslist so I applied for a business card under sole proprietorship with my name as business ID and Social Security number as tax ID.