Amazon is offering NutJob: A Squirrel's Dozen Secret Tips To Productivity [Kindle Edition] for FREE.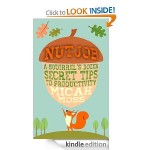 Have you ever watched a squirrel?  I mean, REALLY watched one?  Author Micah Moss has, and he's harvested a bushel of productivity tips from these energetic creatures and shares them with you in: NutJob: A Squirrel's Dozen Secret Tips to Productivity.NutJob is a microcosmic gaze into the world of ultra-productive squirrels; through quirky humor, Micah brings it full circle and shows how these principles manifest in his own writing regimen. These little chapters have big missions that fill over 40+ pages of escape and introspection.  Enjoy hanging out with these small wonders, and who knows?  You just might learn something!
Chase Freedom MasterCard $100 Bonus + 5% Cash Back in Popular Categories
The Chase Freedom MasterCard gives you $100 cash back when $500 is spent within 90 days of account activation. This card makes accumulation and redemption of rewards as simple as possible. Benefits include 0% intro APR for 6 months on purchases and 12 months on balance transfers; 5% cash back every quarter in categories such as gas, groceries, travel and home improvement purchases.