You can get a Free One Year Subscription to Cruise Travel Magazine after signing up.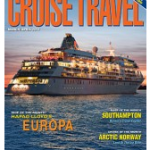 No credit card required.
No subscription to cancel.
The exciting and romantic world of cruise ship vacations. Cruise Travel features include ship of the month, port of the month, plus other coverage helps readers with planning, dress codes, shore excursions and shopping.
Chase Continental OnePass Plus – Up to 40,000 Bonus Miles!
The Continental OnePass® Plus airline rewards MasterCard by Chase offers up to 40,000 bonus miles and perks such as fee waivers and free upgrades on flights. You'll get 25,000 bonus miles after your first purchase and another 5,000 bonus miles for adding an authorized user, that's enough for a free round-trip ticket. There is no annual fee for the first year, a savings of $95.