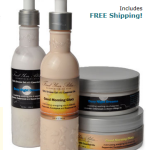 Free Shower Gel & Body Butter Sample from Find Your Bliss available.
The sample includes a .5 fl. oz. pouch of bath/shower gel and .3 oz. pouch of body butter.
You can choose from two scents: Dozy Night Dreams (Lavender, Cedarwood & Sweet Orange Essential Oils) or Good Morning Glory (Peppermint, Eucalyptus & Rosewood Essential Oils).
Most bath products only do one thing: They clean your skin. Our bath products do more. They are aromatherapeutic – That is, they use the power of all-natural essential oils for medical and therapeutic benefit.
Business Gold Rewards Card from American Express 50,000 Bonus Points
The New Business Gold Rewards Card® from American Express OPEN offers 50,000 Membership Rewards bonus points after you spend $10,000 in the first 5 months. That's about $2K per month in spending. The 50,000 points may be redeemed for 50,000 frequent flier miles, enough for 2 flight tickets or $500 in gift cards. There is no annual fee for the first year, a savings of $175.