Walmart is offering 5-Quart Bottle of G-OIL Bio-Based Synthetic "Green" Motor Oil for FREE after Mail-in Rebate. Requests must be postmarked by 6/6/12. May take 8-10 weeks to delivery.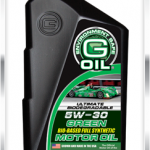 $26 rebate will be credited to your purchase from 06/07/12 through 07/07/2012.
Print and score these free oil now before they gone.