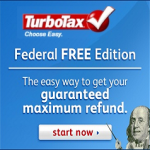 We all dreaded doing our taxes during this time of the year. Well, now you can do it for free though TurboTax Federal for Simple Returns. This free edition offer is good if you have no itemized deductions like mortgage interest, no rental property, or sold any investments. Discuss this free TurboTax Federal for Simple Returns in our Forums!
Chase Freedom® Mastercard $100 Cash Bonus
The Chase Freedom Mastercard is currently giving out a $100 bonus when you make $799 in purchases in your first three months. You will get 5% cashback on rotating categories like gas, drugstores, home improvement, and 1% everything else. There is absolutely no annual fee.