iTunes has the Wee Sing & Learn ABC app for FREE right now.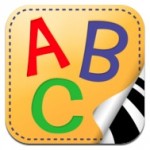 Read Along – Narrator reads and sings a song for each letter, the animal and instrument sounds are heard. Press additional buttons for more words that start with that letter.
ABC Song – Follow the letters of the ABC song set to narration and music
Explore ABC – Explore the alphabet by pressing on the letters to hear them spoken aloud
Play Along – Try to keep up with the ABC song by pressing the letters in rhythm with the instrumental accompaniment
Explore Animals – See an animal and instrument associated with each letter of the alphabet and hear their sounds
Chase Ink Bold $500 Bonus
Chase Ink Bold Ultimate Rewards Business Card offers 50,000 points ($500) Sign-Up Bonus after $5,000 in purchases. The card offers flexible spending limits and requires you to pay off your balance in full each month. The annual fee of $95 is waived for the first year. I sell items on eBay and Craigslist so I applied for a business card under sole proprietorship with my name as business ID and Social Security number as tax ID.