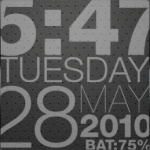 Amazon has FREE WP Clock Full App ($.99 value) for Android phones – just today only.
Your wallpaper can look good and still be useful. Display the day, date, time, WiFi service identifier, and battery status boldly across a background of your choice. Get what you need at a glance and like what you see.
Chase Freedom MasterCard $100 Bonus + 5% Cash Back in Popular Categories

A simple cash back rewards card, the Chase Freedom MasterCard is providing a $100 cash back incentive to all sign ups when $500 is spent within the first 90 days of account activation. This card aims to make accumulating rewards and redeeming them as simple as possible. Great benefits have a 0% introductory APR for 6 months on purchases and 12 months on balance transfers; 5% money back in various bonus categories every yearly quarter on things such as gas, groceries, travel and home improvement-related purchases.