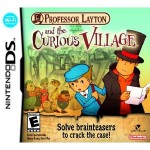 On Sale Handheld Games: DS, PSP, 3DS at Amazon – Save up to 50% OFF
Bestsellers are currently:
3DS
* Zelda Ocarina of Time 3D
* Dead or Alive Dimensions
* Super Street Fighter IV: 3d
* Ridge Racer 3DS
* Star Fox 64 3D
DS
* Kung Zhu with Hamster
* New Super Mario Bros
* Professor Layton and the Curious Village
* Chrono Trigger
* Let's Draw!
PSP
* Tactics Ogre: Let us Cling Together
* Final Fantasy IV: The Complete Collection
* The Legend of Heroes: Trails in the Sky
* Dissidia 012: Final Fantasy
* The Legend of Heroes: Trails in the Sky Limited Edition
Chase Ink Bold $250 Bonus

Chase Ink Bold with Ultimate Rewards Business Card is offering a 25,000 points = $250 Sign-Up Bonus after first purchase. The card requires you to pay off your balance in full each month along with flexible spending limits. The annual fee is waived for the first year, and $95 thereafter. I sell items on eBay and Craigslist so I applied for a business card under sole proprietorship with my name as business ID and Social Security number as tax ID. The business card helps me tremendously when it comes to filing taxes.