Best Buy is offering Harry Potter movies right now: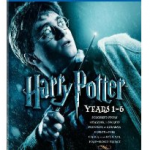 Harry Potter Collection Years 1-5 (12pc)- Blu-ray Disc –  $25 (was $125) + FREE Shipping.
Harry Potter & The Deathly Hallows: Part 1 With Bonus Disc – $7.50 (was $38)
Harry Potter & Half-Blood Prince – $6.25 (was $33)
Harry Potter: Order Of The Phoenix Spec – $2.99 (was $35)
FREE shipping when you spend $25 and more, or  FREE in-store pick up.
Plus, you will get an additional 5% Cash Back from ShopDiscover.
Chase Continental OnePass Plus – Up to 40,000 Bonus Miles!
The Continental OnePass® Plus airline rewards MasterCard by Chase offers up to 40,000 bonus miles and perks such as fee waivers and free upgrades on flights. You'll get 25,000 bonus miles after your first purchase and another 5,000 bonus miles for adding an authorized user, that's enough for a free round-trip ticket. There is no annual fee for the first year, a savings of $95.