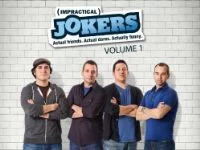 Amazon Instant Video has Impractical Jokers: Season 1 (Digital HD) on sale for $4.99.
Note, please be sure to select 'Buy Season 1 HD' option
Includes:
Pay It Forward
Butterfly Crime Scene
Unmotivational Speaker
Boardwalk of Shame
Drawing a Blank
Panty Raid
Out of TP
Who Arted
Joker's Choice
A Loser Presents
What Did I Eat?
Starfart Marchiato
Bellydancer
Charity Case
Theater del Absurdo
Pick A Loser
Supercuts
They have to SAY it. They have to DO it. You have to SEE it. Once you start watching, you just can't stop! Q, Sal, Joe and Murr have entertained each other for years with the most hilarious dares ever. Now you can watch them in a series of outrageous stunts (recorded by hidden cameras) to make each other (and you) howl with laughter!