Amazon is offering Indecent Proposal [Kindle Edition] for FREE.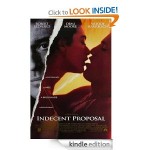 Arab billionaire Ibrahim Hassan offers Joshua Cantor $1 million if he will allow Hassan to sleep with his beautiful blond wife, Joan. But this ostensibly "indecent proposal" has darker overtones for Cantor, whose parents survived the Holocaust. He's a corporate speech writer with an average salary and he's "tired of being poor." He's also afraid of losing his well-bred wife. Joan has never complained about their financial situation, but now Joshua's whining drives her to consider Hassan's offer. Cantor, of course, is against it; but he's too simplistic in his outlook for a reader to share in his vaguely Faustian plight. In the end, Joshua does emerge as a likable and even memorable character, but along the way, repetitive monologue and frequently trite dialogue bogs down what is not an uninspired idea. Engelhard wrote The Horseman.
Chase Continental OnePass Plus – Up to 40,000 Bonus Miles!
The Continental OnePass® Plus airline rewards MasterCard by Chase offers up to 40,000 bonus miles and perks such as fee waivers and free upgrades on flights. You'll get 25,000 bonus miles after your first purchase and another 5,000 bonus miles for adding an authorized user, that's enough for a free round-trip ticket. There is no annual fee for the first year, a savings of $95.