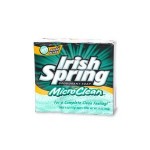 Irish Spring Deodorant Soap, Micro Clean, 4 oz 3 ea is available at Amazon, you just pay it for $3.99 + $5.99 shipping
* Irish Spring Deodorant Soap, Micro Clean, Micro Beads that you can feel gently cleaning.
* Leaves skin feeling smooth, clean and healthy.
* It's Great, refreshing scent.
Chase Ink Bold $250 Bonus

Chase Ink Bold with Ultimate Rewards Business Card is offering a 25,000 points = $250 Sign-Up Bonus after first purchase. The card requires you to pay off your balance in full each month along with flexible spending limits. The annual fee is waived for the first year, and $95 thereafter. I sell items on eBay and Craigslist so I applied for a business card under sole proprietorship with my name as business ID and Social Security number as tax ID. The business card helps me tremendously when it comes to filing taxes.