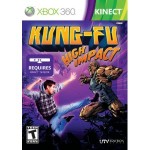 Amazon offers its Prime members Kung Fu High Impact for Xbox 360 Kinect for $13.91 with free shipping. Non-members can spend $25 or more to qualify for free shipping; otherwise, shipping costs $4.798
Jump, flip, punch, kick and use super powers to defeat your foes. Infinite combination of moves – use any style you can think of to defeat the enemies!
In-depth single player campaign that takes you on an epic journey through 10 levels and 11 comic story sections.
Comic book chapters and pits you up against everything from evil mini creatures to ruthless street gangs, epic wizards and 4-story tall club-wielding giants.
Custom fight – choose the level, choose the enemies, tune the physics/speed of time and fight a battle you created.
A full-body cardio workout in the form of entertainment.
Chase Ink Bold Ultimate Rewards Business Card offers up to 50,000 points ($500) Sign-Up Bonus. You'll get 25,000 bonus points after first purchase and an additional 25,000 bonus points after $10,000 in purchases within 3 months. The card offers flexible spending limits and requires you to pay off your balance in full each month. The annual fee of $95 is waived for the first year. I sell items on eBay and Craigslist so I applied for a business card under sole proprietorship with my name as business ID and Social Security number as tax ID.