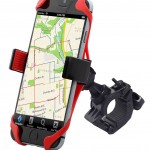 Liger Electronics via Amazon has Universal Cell Phone Bike Mount (black or red) on sale for $5.99. Shipping is free with Prime or if you spend $35 or more.
WIDE GRIP Accommodates larger phones up to 3.5in in width (ie. iPhones, Samsung Galaxy Note, Galaxy Mega etc.) Compatible with MP4 Players, GPS, BlackBerry, iPhone, Samsung or the latest Droid smartphones. 360° pivot allows you to adjust your viewing angle effortlessly. Adjustable side-grip support arms fit to the width of your device.
SUPERGRIP A durable rubber that can stretch to lengths of an Iphone 6 plus without issues. It will hold your phone securely in placed. Will not shift when going over bumps or sharp turns.
POWERFUL enables you to mount your device on handle bars or motorcycle handles up to 1inch in diameter. Adjustable settings. Secures to your handle bar without the need for adhesives.
SHOCK absorbent design absorb vibrations, providing a stable viewing environment. Silicon lined grid keeps your device safe and secure from falling.
NO FUSS Access all exterior ports while your device is mounted. Easy installation: no tools required.