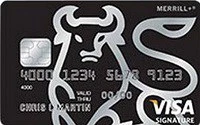 Sign up for the MERRILL+ Visa Signature Card and receive 1 point for every dollar you spend on purchases. On top of that, enjoy unlimited points that never expire! A small business credit card is a great solution for business owners looking to manage cash flow, organize expenses and balance all employee spending.
Bonus Promotion: Unlimited 1x points for every dollar spent towards a purchase
Annual Fee: $0
Other Benefits: Flexible Rewards
Are you in the market for a premier card with benefits? the MERRILL+ Visa Signature Card offers unlimited 1x points per every dollar spent on purchases. From specialized  servicing to flexible rewards, Merrill will help you reach your financial goal.  Don't forget to check out our full list of Credit Card Promotion for all of your credit card needs!