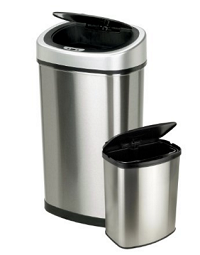 Amazon offers two Nine Stars Touchless Automatic Motion Sensor Trash Cans in Stainless Steel,  for $49.98 with free shipping.
Set of 2 touchless trashcans seal odors in and eliminate cross-contamination of germs
Anti-fingerprint commercial-grade stainless-steel sides with snug-fitting black plastic tops
Water-resistant infrared motion sensor detects motion within inches of sensor range; interior garbage bag ring and black plastic liner can
Smaller can runs on 4 D-size batteries; Larger can runs on either 4 D-size or 3 C-size batteries (not included); energy saving technology keeps battery life 20% longer
Black plastic liner ring is for large size trashcan. Black plastic bucket is for small size trashcan.